About the Partnership
The Johnny Mercer Foundation's partnership with the Alliance Theatre launched in 2018. With the Foundation's support, the Alliance Theatre Institute developed and implemented its first Musical Theater Composition residency program for high school students, serving (2) classes (50 students and 2 teachers) at Frederick Douglass High School (Atlanta Public Schools).
During the 2019-2020 school year, the Musical Theater Composition residency program expanded to include an additional (2) classes (50 students and 1 teacher) at Benjamin E. Mays High School (Atlanta Public Schools). Through this program, 100 students had the opportunity to examine the history of musical theater and create an original musical theater production. The program kicked off with a full-day special event comprised of two workshops including an Introduction to Musical Theater Performance & Lecture and an exclusive meeting with a professional playwright to engage with a source text that would inspire their own musical work. Then, under the mentorship of two professional teaching artists, each participating class composed, rehearsed, and refined a section of a common story, including both dialogue and song — first within the context of a single classroom before coming together to build a complete story.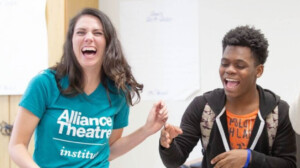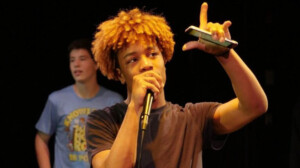 In 2019-2020, the residency program connected to the Alliance Theatre's production of Seize the King, a modern reinterpretation of Shakespeare's Richard III by award-winning playwright Will Power. To culminate the residency experience, students visited the Alliance Theatre to meet with representatives from the creative team, experience the performance, and share their work and interpretations with the cast.
This year, the program will pivot to a virtual format, to include a series of videos designed to support high school teachers, students, and caregivers in teaching and learning about musical theater this year and beyond. All videos will be made available to the public for free through Vala, a musical theater streaming service.
About the Alliance Theatre Institute
The Alliance Theatre Institute partners with districts and schools to elevate teacher practice and impact student academic and social-emotional growth through arts integration, STEAM, and theater. Designed to support school curriculum and individual classroom goals across all grade levels and content areas, Institute programs include residencies, workshops, and professional learning events.